Updated again because the previous video link no longer worked. Thanks to TheFianalAlpaca over at ASDaze forum for the new link! Now with additional translations by ASDaze and infinity328.
Lizzy's Japanese has improved a lot! Nana also seems very comfortable with the pace of the conversation. Kaeun didn't have to do any translating or explaining in their place.
(1) They asked them for their heights. Lizzy is 168 cm, Kaeun is 169 cm, and Nana is 171 cm. They made the male guests stand next to Nana, and laughed at the difference in heights.
(2) Nana introduced their new single and their new masculine concept.
(3) The guests asked if it was all right for After School to date. Lizzy said it's fine, as long as they keep it a secret from their boss
(4) Lizzy, Nana and Kaeun got up and demonstrated some parts of their dance for the guests. Umeda Ayaka, a member of AKB, joined in to help them create the "wave" effect.
(5) One of the guests asked Lizzy (very slowly and carefully), "What was the first song you listened to in Japan?" Lizzy stared at him and joked, "I'm not stupid, you know."
(6) Around 03:40 the MC asked them since they visited Japan oftenly, is there any particular thing they like/love from Japan? Lizzy said she loves Tokyu Hands* and doing this Tokyu Hands logo motion with two hands XD She also said she loves stationery and Do-It-Yourself crafts a lot. The male MCs told that it's quite popular among girls while female MCs seems don't really know about DIY. Lizzy then said even it doesn't looked like, she's actually a feminine type of girl.
*Tokyu Hands is a popular department store with DIY concept in Japan that sells various hand craft and stationary products.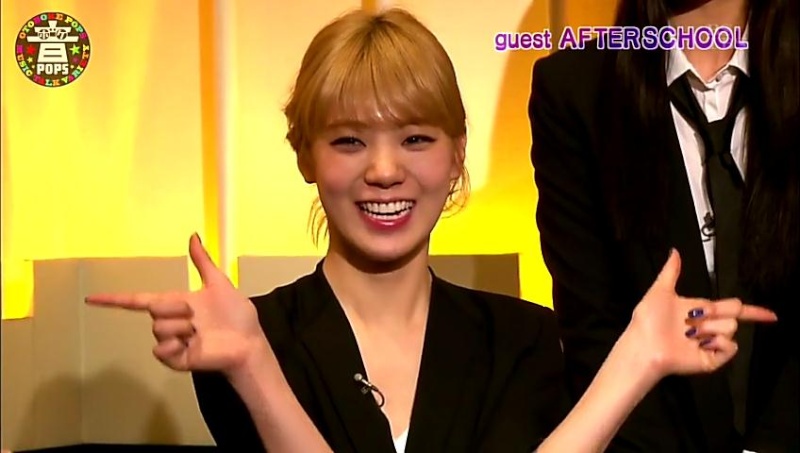 (7) Lizzy shared a Japanese song that she liked, because it reminded her of her sub-unit.
Lizzy: I'm not sure if everyone is familiar with our sub-group, but their concept is very similar to Orange Caramel.
Umeda Ayaka (AKB48 member): Oh, I've heard about them before.
Lizzy was very excited, and pointed at herself and Nana, and said that they're actually both part of the group. Lizzy was very surprised that someone from AKB knew who they were.
(8) Nana said she was a regular model for BLENDA magazine. The group asked her to catwalk. Nana performed a short walk towards the exit and then raised her hands and bid everyone goodbye.
(9) There was once Nana was in Japan for work, and her manager asked her how the weather was. Nana wrongly told him that the weather was "hage" (which means "bald" in Japanese). She meant "hare" (clear and sunny). She explained she wasn't fluent with Japanese back than and had no idea what hage means. Coincidentally, her manager was indeed bald, and she felt bad about it. She apologized to him on the spot.
(10) One of the MCs said he was a fan of BIG BANG and that he was close to them.
Lizzy : So do you have their phone number?
MC: (laughs) No… but they were my guests before.
Lizzy: So have you seen them nude? Their bodies?
MC: No, because they changed in another room.
Lizzy and Nana (at the same time): Oh… that's a pity. (They laugh at each other)
(11) One of the girls said that Nana must have a pretty bare face.
Lizzy bugs in as her words got censored.
They continue to say, she should be interesting and cute while being bare faced, so Lizzy was asked to share her thoughts on that.
Lizzy: It was bad (all laughs)
The guys: How's that possible? Isn't she World Number 2?
Nana: I looked into the mirror, and I'm totally a different person with and without my make up on.
One of the guys: Is it really that bad?
Lizzy: (emphatically) Yes.
(12) Kaeun impersonating the voices of Pikachu in 3 different tones. (This was hilarious!)
One of the guys to Lizzy: How was it?
Lizzy: Oh, it was so cute!
One of the guys to Lizzy: How about Nana's bare face?
Lizzy: Ohhh, so unpleasant! (everyone laughs)
Closing:
Nana hopes that After School will get a CF deal in Japan. She asks everyone to contact them
Credit: Original translation by ASDaisuki, with additional translations and edits by AfterSchoolDaze.
A proud new graduate from college, I love getting things organised, going crazy with wild ideas and fun activities with my partner-in-crime Sarah, and working with the
best team ever
at ASDaze! In my precious free time, I also like writing essays about
my favourite K-pop groups
♥